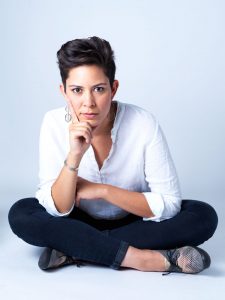 Elizabeth Ogonek, whose music has been described as "shimmering" and "dramatic" by the Chicago Tribune, is an American composer living and working in the Midwest.
In 2015, Ogonek was appointed to the Chicago Symphony Orchestra as one of its Mead Composers-in-Residence, a position which she held alongside Samuel Adams until 2018. During her tenure with the CSO, she was commissioned to write three new works: In Silence (after Biber), a chamber violin concerto featuring violinist Benjamin Beilman, which was premiered under the direction of Elim Chan; an orchestral work entitled All These Lighted Things, conducted by Riccardo Muti and later featured on the orchestra's 2017 west coast tour; and The Water Cantos, a work for twelve players commissioned in celebration of the 20th anniversary season of MusicNOW and premiered under Esa-Pekka Salonen. She was also responsible for co-curating MusicNOW, the orchestra's new music series, which brought together CSO musicians with composers to explore the music of today as well as influential works of the 20th century.
Ogonek has also worked closely with the London Symphony Orchestra through their Panufnik Scheme. This collaboration resulted in two orchestral works: as though birds and Sleep & Unremembrance. Both pieces were premiered under the direction of François-Xavier Roth. Her orchestral music has been further performed by the Royal Philharmonic Orchestra, the American Composers' Orchestra and the Music Academy of the West's Academy Festival Orchestra. Other recent notable projects include two works for the Santa Fe Chamber Music Festival, a work for Ensemble 360 and a work for the 75th anniversary season of the Bennington Chamber Music Conference. Upcoming projects for 2018/19 include a solo piano work commissioned by the Music Academy of the West for Sophiko Simsive as well as a piano concerto for Xak Bjerken commissioned by the Fromm Foundation. In the summer of 2018, Ogonek was in residence at the Music Academy of the West in Santa Barbara, California. Her music was also featured in the 2018 BBC Proms in a collaboration with Gerard McBurney.
Ogonek's work has been recognized by the ASCAP Foundation, the American Academy of Arts and Letters, the Royal Philharmonic Society and the Ohio Arts Council.
Ogonek was born in 1989 in Anoka, Minnesota and was raised in New York City. Her primary teachers included Don Freund, Claude Baker, Michael Gandolfi, Donald Crockett, Stephen Hartke and Julian Anderson. A former Beinecke and Marshall Scholar, she holds degrees from Indiana University, Jacobs School of Music (BM, 2009), the University of Southern California, Thornton School of Music (MM, 2012) and the Guildhall School of Music and Drama (DMus, 2017). Currently, she is an Assistant Professor of Composition at Oberlin Conservatory.